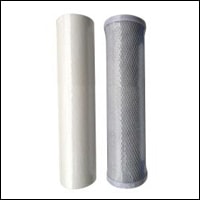 Finest Filters sells many styles of 10" RO filters for your household reverse osmosis unit. For anyone using RO units for their household or drinking water, there are a choice of RO filters that can remove impurities so you can enjoy clean, safe drinking water. You may be wanting to reduce levels of chlorine in your tap water or make sure that any sediments like sand or silt are removed from your water supply. Finest Filters has RO filters and cartridges that can do just that and are compatible with most RO units.
Our range of 10 inch RO filters includes sediment filters, carbon block filters, granulated carbon filters, and filter sets. 10" sediment filters act as mechanical filtration for your water supply, manually removing bits of debris or unwanted materials from your water, so not only will water taste better, but your plumbing system and appliances won't be clogged up with unwanted sediment. Carbon block RO filters also help remove dirt but clear out chlorine too for fresher tasting water, while granulated carbon filters balance sediment removal and chlorine reduction, and can help to reduce any unpleasant smells in your water. 
Each type of RO filter from Finest Filters can be bought as either a single filter or in multiples of three or five. To get the most from your RO unit, you may wish to purchase a filter set that has sediment and carbon RO filters included. We also have 10" RO filter sets with RO membranes included too for fully functioning and effective reverse osmosis filtration. Shop 10 inch RO filters now.